Liberty Lake is seeing a surge in food and beverage businesses, with another new option on the horizon; the city is about to get a cider tasting room. The Trailbreaker Cider tasting room and production facility building is currently under construction at the corner of Appleway Avenue and Madson Street.
"We're hoping to be open later this year," said Trent Maier, one of Trailbreaker's owners. "The primary focus for us right now is to get production moved from Pullman."
Maier co-owns Trailbreaker with his brother-in-law Brian Augdahl. Both of their wives are also heavily involved, and have been since they started the cider business seven years ago in Pullman under the name Whiskey Barrel Cider Company. They found out a couple years ago they would be forced out of that location and started to look for a new home.
"The building that we owned down there was purchased by the local airport as part of their expansion," said Maier.
The team knew they wanted to continue their business but weren't sure initially where to do that.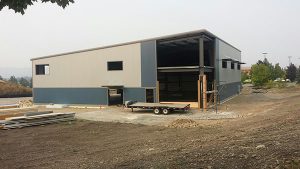 "The Spokane area was kind of targeted as to where we were moving to. We looked at Spokane, we looked at Coeur d'Alene. We sell a lot of our product in Coeur d'Alene so it bridges a gap quite literally from Coeur d'Alene to Spokane to have it located in Liberty Lake," said Maier. "And then there were the opportunities in terms of land that came available. We thought they were pretty good values in Liberty Lake."
While cider production was stopped a while back due to the lack of a facility to do it, Maeir says they plan to use the move to Liberty Lake to their advantage with a new name, new branding and new products.
When the production end of the business moves into its new facility, Trailbreaker plans to market not only ciders, but also juice.
"The whole thing really starts and ends with fresh juice."
The company produces its own juice that is blended with fermented cider to make hard ciders, but discovered there is also a market for the fresh juice.
"We hope to develop that end of production to sell in grocery stores. We used to have people who don't drink alcohol come in and get growlers filled with juice. And for kids."
A marketing emphasis will also be put on the gluten-free aspect of cider.
"Two of the four of us (owners) have gluten-related health issues," said Maier. "That trend hadn't really started seven years ago when we started the company but while in Pullman, we catered to the gluten- free crowd with our hard cider."
Trailbreaker will also offer beer and wine for those who prefer it, and food.
"We're going to go with a German-themed restaurant modeled after a German restaurant in Leavenworth called Munchen Haus."
The restaurant will also offer outdoor seating, be open for weekday lunches to serve the local business community, and on weekends for those looking for a social gathering place, as well as event space.
"It's hopefully a fun place to do some events," said Maier. "Bigger events than what has been able to be done in the area before."
That could be a little while in the future though. Maier is just trying to get his building up at this time and start producing cider again. As a way to expedite that, he and his brother-in-law Augdahl are serving as the general contractor on the project. Maier says he is doing a lot of the actual construction as he has more available time than Augdahl.
"I also do most of the cider operation because they all still have full time jobs," he said, "That's my job right now."
As for a schedule, it is uncertain at this time when Trailbreaker Cider will open but a soft opening is planned, followed by a grand opening and ribbon cutting with the Spokane Valley Chamber of Commerce.
"I think everybody would love to see that tasting room get open before the holidays hit but as soon as we can is the theme," Maier said. "Stay tuned, I think, is the message right now."
If you are anxious for the new tasting room to open, you can follow Trailbreaker Cider's progress on Instagram at @trailbreakercider and on Facebook at facebook.com/trailbreakercider.