Since meeting in 2005, Mark and Sarah have dreamed of entrepreneurship and owning and operating a winery. That dream became reality in January 2016 when they purchased the Liberty Lake Wine Cellars (LLWC) from Doug and Shelly Smith.
In 2017 the couple moved the winery from its original home overlooking Liberty Lake to their newly built winery located in the heart of Liberty Lake. The new winery allows them to produce approximately 1500 more cases of wine than the previous location. It boasts a larger tasting room, production space, and barrel storage area.
Mark and Sarah have embraced an interactive winery with all wine production taking place on-site. Grapes are harvested in September and October, pressed in October and November and every bottle of wine is bottled by hand during the spring and summer months.
Since purchasing the winery, the couple has invested into upgrading their barrel program to primarily American made barrels with a very tight grain which act like French barrels. They've also made some changes to their Wine Club. Speaking of which, if you are interested in joining one of their three Wine Clubs, don't hesitate. The Wine Clubs are approximately 150 people away from having a waiting list. Each Wine Club was named after the community: Lake Club, Eagle Club, and Pavillion Park Club.
Since opening, Mark and Sarah have enjoyed making big bold reds and have added a second label, Tahija, introducing whites, rosés, and other reds. Recently released and very well received are the 2016 Bud Burst Reserve Red Blend, 2014 Heritage Reserve Red Blend and the 2016 Cabernet Sauvignon. Upcoming releases include: 2016 Petit Verdot, 2016 Syrah, 2018 Tahija Dry Riesling, and 2018 Tahija Sangiovese Rose'
"Because we buy great Red Mountain fruit we can take a hands-off approach to winemaking, let the grapes do most of the talking, and focus on having a little fun," comments Mark. "All of our wines (except one) are fermented to dryness (i.e. no residual sugar.) They are also vegan because we don't find them with additives."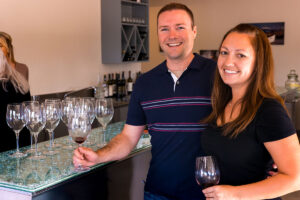 Both Mark and Sarah love being a part of the community and enjoy offering and introducing extraordinary wines to inspire the palate of all who walk through their doors. Sarah states, "Liberty Lake is such a great community, so supportive of its citizens that we've had a lot of fun creating events for the community and partnering with various local organizations. We're excited to do more."
In addition to being a great place to enjoy a savory glass of wine and antipasto plate with friends and neighbors, the Liberty Lake Wine Cellars is also a fantastic place to hold private events: Milestone birthday parties, bridal showers, business meetings, etc. Mark and Sarah hold various events at the LLWC including Bottle Painting, Sign Making, an annual Liberty Lake Library Fundraiser, a Mother's Day event, plus many more. You can view their scheduled events under the event tab on their webpage https://www.libertylakewinecellars.com.
As of April 01, 2019, Mark and Sarah expanded their hours to:
Wed, Thurs & Fri: 1pm-8pm
Sat & Sun: Noon – 5pm
Stop by and tastes the new releases or enjoy a glass of an old favorite.