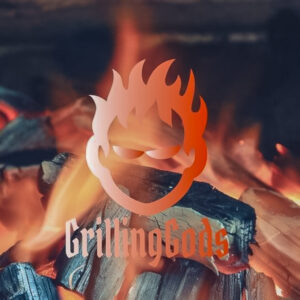 Liberty Lake couple, Casey McClarty and Cassie Molloy, are the real Grilling Gods. The couple began as sales reps for a food and spice related business, then consulted for a local spice company prior to beginning their own business. They reside in Liberty Lake and create their rubs in a commercial kitchen in Spokane Valley.
Grilling Gods was born after the couple received a phone call from a friend who worked at the Gozzer Ranch in Harrison, Idaho. He asked them to create a rub that the ranch could use for their pork ribs because the head chef wanted to support a local business. Hence the birth of "Sweet Backyard BBQ." After learning the chef and their customers loved their BBQ rub, Casey and Cassie created three more blends and started their brand "Grilling Gods."
They now have four flavors, all of which are Gluten Free and have no MSG. The first three below are also sugar free.
"Steak & Bake" – Is their top selling flavor which takes the best parts of a Montreal style and incorporates California grown garlic and mustard seed.
"Salt of the Gods" – Is their newest and has quickly become a top seller. This amazing all-purpose seasoning is loaded with tons of domestic garlic, fresh pepper, onion, sea salt and smoky hickory flavor, creating a Johnny's style rub without any sugar, msg. or fillers!
"Southern Heat" – If you like a little heat with a whole lot of flavor, this may be the one for you. It has a unique combination of Cajun and Hispanic flavors, creating an absolutely outstanding profile with just the right amount of heat.
"Sweet Backyard BBQ" – This rub is the Grilling Gods take on a traditional sweet BBQ dry rub with the flavors of fresh chili powder (without any heat) and an amazing cinnamon sugar blend that has half the sugar of traditional brown sugar rubs.
Grilling Gods does not have a retail store, however you can purchase any of these online at Grillinggods.com, at Yoke's Fresh Market, Sonnenbergs, Tim's Meats and at FMI Equipment. Grilling Gods will also be at Fairwood on Tuesdays, Kendall Yards on Wednesdays, the Spokane Valley Farmers Market on Fridays and the Liberty Lake Farmers Market on Saturdays.
Grilling Gods is a small family business working hard to build a loyal following for their brand by focusing on customer service, amazing flavors and affordability for families. They also donate to Soldiers' Angels through special sales throughout the year.