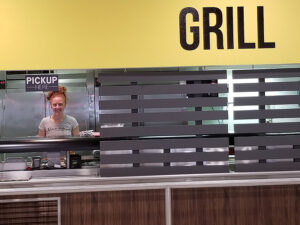 I'm happy to put an end to the rumor of Café 19 closing. As it turns out, Café 19 is not closing. As a matter of fact, they've hired Bekka Weitman as Café chef, and Bekka is excited about the future of the Café.
Owned by Tim Mitchell and Matt Logan of Mangia Catering Company, Café 19 is a cafeteria style café, who relies heavily on the honor system. Customers ring up their own food and beverages and cash out by paying with a credit or a debit card.
The café is open Monday – Friday from 7:30am to 10:00am for breakfast. Customers can choose from breakfast burritos, omelets, French toast, a breakfast combo, biscuits and homemade gravy or Sweetwater Bakery items.
Lunch is available from 10:30am – 1:30pm, where you can choose from a trip to the salad bar, deli bar or healthy snack hummus bar. But wait, there's more!
The café also offers a variety of burgers, a quesadilla, chicken strips, and a few sandwich options including their newest mouthwatering addition, a crispy chicken and Belgian waffle sandwich with bacon, a spring mix and maple mustard.
Additionally, Café 19 offers Grab & Go items such as, chips, candy, cookies, Craven coffee and a large assortment of bottled and fountain beverages.
If you're pressed for time or ordering for a large group and don't want to wait, Café 19 invites you to log in and place your order online at www.Ordercafe19.com
The café is located in the Liberty Lake Business Park at 22425 E. Appleway Ave. DOOR 19