Cider lovers can now breathe a 'cider' relief: The Trailbreaker Cider Tasting Room will be holding a soft opening towards the end of June with the anticipation of a hard opening in July.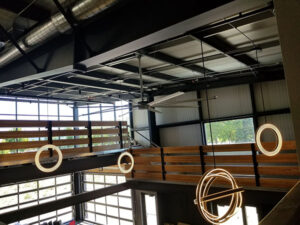 Co-owner, Trent Maier, is excited to finally be opening their new facility located on the corner of N. Madson Rd and E. Appleway in Liberty Lake. The cidery will have approximately 12 of their own ciders on tap in addition to beer, wine, and a great food menu where you'll find some traditional German style foods such as brats and sausages, plus a salad bar. The owners may switch it up and offer a baked potato bar, taco bar or maybe even a mashed potato bar.
The facility has a large seating capacity and having multiple levels makes the floor plan very versatile to hold meetings, events and entertainment. The two-story seating space will accommodate every persons seating preference and the upper level offers great views of the entire production facility.
Maier states, "We plan on being open 7 days a week to start. We want to feel out the community. Our hope is to be open every day beginning at 11am to accommodate the lunch crowd and stay open later into the evening."
Be sure to like their Facebook page and follow them for updates https://www.facebook.com/trailbreakercider/