What do Greenstone Homes, a pair of chihuahuas and a couple of local service clubs have in common?
All are stepping up to support their community library.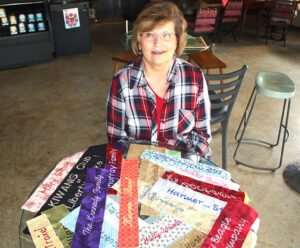 When Liberty Lake resident and seasoned quilter Judi Owens pitched an idea for a unique fundraiser to Friends of the Liberty Lake Municipal Library, the concept took off. Donors will have their names embroidered on the spines of books sewn onto a quilt that will be displayed at the library as a blend of decorative blanket and legacy wall. .
So far, the list of philanthropists includes local businesses like Greenstone, service clubs like Kiwanis and Rotary, a collection of families and individuals and "Rico," a chihuahua belonging to Steve and Charmaine Peterson. "Pecos," the Peterson's dog who passed away last year, will also be represented on a spine of his own.
"I thought this was some way I could contribute," said Owens who served as a City Council member for 10 years beginning in 2001. "I feel I have an investment in Liberty Lake. I hope people think of me as someone who has a heart for this community."
Time is running out to reserve a spine. Orders must be placed by the end of June. A trio of levels are available for donors starting with Silver ($50 to $249); Gold ($250 to $499) and Platinum ($500 and up). Owens says she plans to have the quilt ready by some point this summer.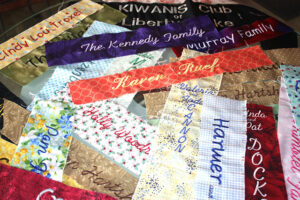 "This is going to be an heirloom for the library," said Friends President Holly Woodruff. "We laugh that we can envision it on "Antiques Roadshow" one day. This is a way you can have your name associated as a contributor to this cause."
Woodruff said funds raised through the quilt project and other Friends' efforts help ensure that library programming is available year-round. That means everything from Lego Club to drop-in computer classes to Nerf Wars and more. Support from Friends has also secured free passes to the Mobius Science Center and Spokane Symphony.
"The library does so much but the funding it gets from the city's property tax goes toward salaries, building maintenance, some purchase of books and a few other things," Woodruff said. "Without funding from the Friends of the Library, the library wouldn't be able to put on this programming."
After the vote for Liberty Lake incorporation passed in November 2000, Owens was part of a committee that began discussing plans for a municipal library. When the city secured a small space in the Greenstone building, Owens helped procure donated bookshelves from the Central Valley School District where she worked at the time.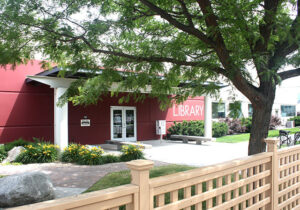 In addition to donor names, Owens says she plans to include images on the quilt representing the city and longtime Library Director Pamela Mogen who retired last year.
Woodruff said Friends continues to operate with a low overhead of around 1 percent. Annual membership dues are only $10. The group meets at the library on the last Wednesday of each month at 2 p.m.
"It's great being part of something that is such a central part of Liberty Lake," Woodruff said. "This is our community center."
On July 24, Friends will host "A Summer Soiree" at Liberty Lake Wine Cellars from 6 to 8:30 p.m. After a successful inaugural event last year, the agenda will remain much the same with lawn games, hor d'oeuvres and gourmet desserts. Wine and non-alcoholic beverages will be available for purchase. Tickets are $25 per person. The musical stylings of the Anne and Dan duo will also be featured. Theme baskets will be offered as part of a silent auction.
"Ticket sales for the first soiree cleared $1,200," Woodruff said.
Tickets for "A Summer Soiree" are available at the library and Liberty Lake Wine Cellars.
To donate to the quilt project and have a name included on a book spine, email Holly Woodruff by June 30 at hollyw0607@gmail.com.