It helps to be tall on Independence Day in Liberty Lake.
Once again, altitudinous attendees at the Fourth of July celebration in Pavillion Park will have improved odds of seeing fireworks overhead while also catching portions of a lakeside display taking place in the distance.
Since 2015, a fireworks program sponsored by the city of Liberty Lake has gone head-to-head with the long-running Liberty Lake Fireworks Display, an effort entirely funded by community donations. For the fifth straight year, both shows will begin at 10 p.m.
"I think most fireworks displays start at 10," said Liberty Lake City Administrator Katy Allen. "We've never talked about moving it. I suppose it could be considered."
The lakefront show has been running for over 30 consecutive years with Liberty Lake native Denise Coyle overseeing the process. Her grandfather Homer Neyland started the first incarnation of fireworks over the lake in the 1950s. Local historian Ross Schneidmiller brought the popular show back before turning it over to Coyle.
"The people who donate to this display are never disappointed," Coyle said. "People are very supportive. I've seen a lot of new names (donating) this year."
Coyle said overall cost of the display this year will run $12,000. Allen said the city's fireworks budget for 2019 is hovering just under $11,000.
Coyle recalls some easiness when the city announced in early 2015 that it would be getting into the fireworks business. City Council approved the idea that February.
"We were a little nervous at the get-go," Coyle said. "But I think it's gone fine. When we get a chance to share a day like this, it's pretty neat."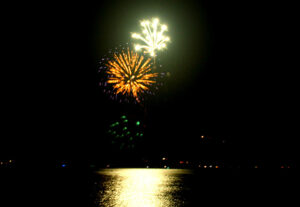 When only one fireworks festival appeared on the local schedule, donations were accepted at Pavillion Park on the Fourth while groups like Friends of Pavillion Park and Liberty Lake Kiwanis pitched in funds of their own. When the city moved up to share the stage, Coyle said fundraising took a hit.
"Initially, it did hurt us," she said.
Allen said the city began discussions of putting on its own program after July 4, 2014.
"It was a combination of traffic issues and logistical issues with people who couldn't see the fireworks," she said. "People would come to hear the music at the park and to see the fireworks after but they couldn't see the fireworks."
Allen said she "has never sensed the competition" between the two shows, although there has been some feedback that fireworks are not the best use of taxpayers' money. She has also heard at least one complaint about the noise and air pollution during and after the display.
"The people who don't enjoy it are vocal," she said. "The people who enjoy it usually don't say much. Overall, it's been well-received. Many people in Liberty Lake can watch it from their homes."
For Coyle, this year's program will include special poignancy. Her mother, Mary Floy Dolphin, passed away in March at the age of 90. Mary called the lake home for 78 years. Coyle said the fireworks' organizer is planning a special tribute to Mary as part of the show.
"She loved the lake and she loved the fireworks," Coyle said.
Donations to the community display are being collected outside Safeway and at he Liberty Lake Farmers Market. Coyle's husband, Tim, is a catalyst on the fundraising front. Coyle said she has veered away from pursuing a corporate sponsor, saying she intends to keep "the country, hometown feel."
"People ask me, 'Why don't you get a corporate sponsor?'" she said. "We don't want to do that. There was a display in Seattle that had a corporate sponsor one year when the economy was bad and they bailed out two weeks before the event. My philosophy is to let the people who donate have ownership of the display."
Those interested in supporting Liberty Lake Community Fireworks Display can send donations to P.O. Box 430, Liberty Lake, WA. 99019 or go to libertylakefireworks.com.
"We do our thing and they do theirs," Coyle said of the concurrent lake/city shows. "It doesn't really bother me. It's a wonderful day."
Fourth of July events this year include:
The 31st annual Liberty Lake Fourth of July Community Parade through the Alpine Shores neighborhood. Parade lineup will begin at 11 a.m. with the procession beginning at noon. Decorated golf carts, scooters, strollers and bikes are welcome. Games and food will follow at the Alpine Shores common area. Pat and Mike Lutzenberger will serve as this year's parade grand marshals.
Concert and fireworks in Pavillion Park featuring Twenty Dollar Bill, The Rub and Tuxedo Junction. Music begins at 5:30 p.m. Liberty Lake Kiwanis will be selling concessions.