Liberty Lake, WA … On Sunday, July 28, at 5:00 pm, Friends of Pavillion Park presents the Montana Shakespeare in the Parks performing Shakespeare's comedy "The Merry Wives of Windsor" in Pavillion Park.
Admission to the performance is free. Audiences are encouraged to show up early with low back chairs, blankets, a picnic supper, and friends and family to grab a spot and enjoy the evening. Concessions will be available at the park through the Liberty Lake Kiwanis.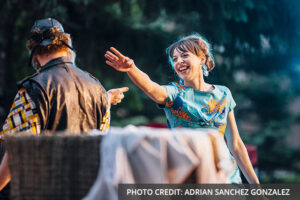 This is the 47th season for the touring company, whose performances have become a summer tradition and seasonal highlight for many rural communities. The company will travel over 7,000 miles during the season, running from June 12 through September 3, performing in 61 communities in five states – Montana, North Dakota, Wyoming, Idaho, and Washington. All performances are offered free in local parks and public spaces, making Shakespeare accessible to all! Additional information can be found at www.shakespeareintheparks.org
For the 9th year in a row, the Friends of Pavillion Park of Liberty Lake will be sponsoring the Montana Shakespeare in the Parks group at Pavillion Park! Please join us with family and friends for a magical evening of Shakespeare under the big sky at Pavillion Park (727 N. Molter Rd, Liberty Lake, WA 99019). It is part of the 23rd Annual Summer Festival hosted by the Friends of Pavillion Park.
About Friends of Pavillion Park:

Friends of Pavillion Park is a 501-(c)3 non-profit organization, established by a dedicated group of volunteers in 1992. Friends of Pavillion Park is dedicated to promoting a sense of price by providing the Liberty Lake community with the opportunities for recreation, education, entertainment and the arts. Learn more at www.PavillionPark.org.
SOURCE Friends of Pavillion Park