Keith Dotson stood patiently in line at Pavillion Park last Thursday, carefully deliberating over flavors of ice pops.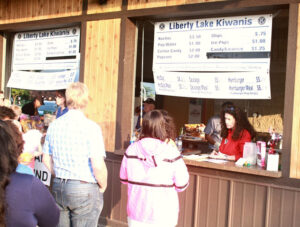 At $1 a piece, Dotson couldn't go wrong.
"These are awesome prices," said Dotson, a Spokane resident who brought his family to the park for the annual Fourth of July concert and fireworks. "Way cheap for an event like this."
The drive east on Independence Day has become a regular pilgrimage for the Dotson family. Stopping by the Liberty Lake Kiwanis concession stand is one of the highlights of the visit, according to Keith who first found out about the free Summer Festival from a friend three years ago when he was working in Liberty Lake.
"It's a great for your family to get out of the house," he said. "I work all week long and this is a guaranteed day where me and the family can just hang out together."
Earlier in the evening, Dotson was able to buy dinner for his entire family — including four kids — for a bargain price that left plenty left over for a refreshing dessert.
"The kids want ice pops, so I'm back for ice pops," he said. "I like the hamburger meal. You can get a hamburger, chips and a pop for six bucks and it goes toward a good cause. The volunteers here are not here to make money.They're here to help out. It's perfect service with a smile."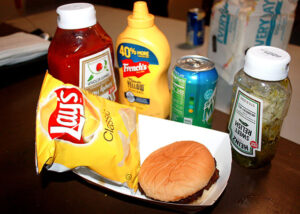 Mike Andriolo owns one of the smiles behind the snack booth. He moved to Liberty Lake in 2001, the same year the local Kiwanis Club was founded. He is an original member of the Liberty Lake club and a Kiwanian since 1973.
As for staffing the concession stand, Andriolo said he makes it a point to help out most of the summer, whether it's concerts or movies.
"I'll be out here when I can," he said. "I like meeting the people and helping our community."
In addition to providing $12,000 in scholarships last year,. Liberty Lake Kiwanis sponsors the K-Kids program at local elementary schools, the annual Father-Daughter Dance and Liberty Lake Yard Sales. The list of causes the club supports includes Ronald McDonald House, Meals on Wheels, local food banks, Children's Miracle Network and more.
The theme of paying it forward wasn't lost on Spokane Valley resident Dusty Silva, who took time out of her Independence Day festivities to brave a growing line of customers and buy cotton candy and ice pops for her two kids.
"I don't mind waiting," Silva said. "The prices are really affordable and I like the fact that the money is going to community services."
While Kiwanis has been serving up snacks at Pavillion Park for over a decade-and-a-half, the club experienced a venue upgrade in 2015 when the city of Liberty Lake added a permanent concession stand along with other improvements to the park. Before that, a sturdy trailer was the home for Summer Festival refreshments.
"Thanks to the mayor and the council, we have a permanent concession stand," Andriolo said. "This is so much better.than the trailer."
Kiwanian Melissa Niece said the club still uses the trailer for a back-to-school barbecue and other community events outside the park. She added that it is available for other groups to borrow or rent.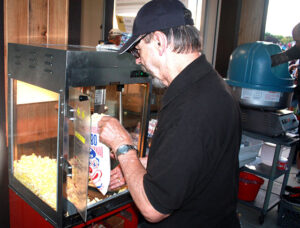 On July 4, around 10 volunteers showed up at 3 p.m. to set up and prepare for the steady stream of snack connoisseurs. When asked about splitting up shifts for the event, Niece looked puzzled.
"A shift? she said. "What's a shift? You get here, you stay here from open to close. It's interesting. You're doing math all night long."
Niece and Andriolo both emphasize that volunteers are needed this summer to help at the booth. The club's membership ranks could also use a boost.
As for the most popular item among concession stand shoppers, the two Kiwanians can't reach a consensus.
"Skittles for sure," Andriolo said.
"Tonight, it's been popcorn," Niece said.
While the top-selling product may still be up for debate, there is agreement that the cost-effective menu and community-conscious agenda are here to stay.
"To me, the prices should be low because we're providing a service to the community," Niece said. "People are so gracious. They're thanking us for doing this. We're here to make it a fun event for the community,."