They have become the newest mobile landmarks in downtown Spokane — bright, green electric scooters that whisk people to a variety of destinations. After a pilot program last fall, the scooters returned in May on a more permanent basis after the city approved an agreement with San Francisco-based Lime Company.
Now there is talk of bringing the two-wheeled trend to Liberty Lake.
Liberty Lake City Council Member Dan Dunne became a fan of the alternative transportation device after utilizing them from his office downtown.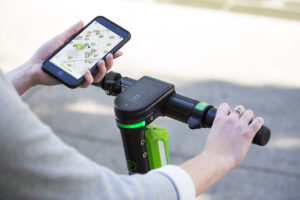 "I can get from Riverfront Park to Gonzaga University in about five minutes," said Dunne. "These (scooters) eliminate car trips and create more opportunities for pedestrians."
The city of Liberty Lake passed an ordinance in 2005 addressing the growing craze of motorized scooters, prohibiting them from public parks, trails or sidewalks. Dunne said the policy was put in place as a public safety measure to address aluminum scooters with loud motors attached.
"They were popular back then but you don't see them now," he said. "It basically had a weedeater motor on it. With the noise and smoke, they really were a nuisance."
Lime scooters, Dunne says, qualify as "non-motorized wheeled vehicles" that run quietly and are recharged daily after use.
"Liberty Lake is, by virtue of our comprehensive plan, a pedestrian-oriented community," Dunne said. "We also embrace new technology. This brings a focus on bike lanes and non-motorized transportation."
The City Council would need to agree on changing or eliminating the existing ordinance in order for Lime scooters to legally operate in the city. Dunne said there is also the option of introducing a pilot scooter program with an understanding that the ordinance would "temporarily not apply."
Director of Planning and Engineering Lisa Key has had conversations with Lime representatives over the last month.
"They would like to pursue something in the city of Liberty Lake," she said. "There's a lot of pros and cons. It's a great alternative form of transportation but at the same time, there are some challenges in terms of where you ride."
Lime — which also offers manual and electric bikes — charges $1 to unlock a scooter and 25 cents each minute to ride. Riders take on all on liability and must be at least 18 years old. Scooters are activated by downloading the Lime app on the iPhone App Store or Android Google Play.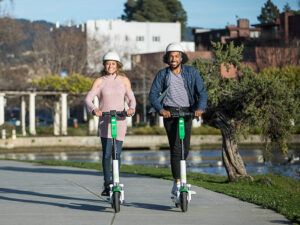 In Spokane, Lime pays the city 75 cents for every scooter and bike operated in the course of a day. The agreement is expected to generate around $50,000 in annual revenue.
Mayor Pro Tem Shane Brickner said the city "would need to have all our ducks in a row" in order to bring Lime to Liberty Lake.
"They say the user takes on all liability," Brickner said. "I need to see that in writing. I see the value of it but we need to have everything in place to enforce the rules."
Council Member Mike Kennedy said he is "in favor of looking at this" while also wary of potential risks.
"The challenge in Liberty Lake is we have already have walkers, bikers and golf carts on the trails," he said. "Now if you add scooters to the equation, that's a concern."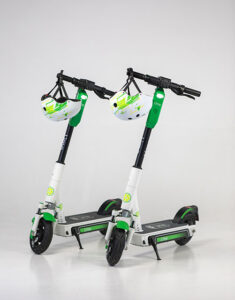 Kennedy said that while scooters have been a success downtown, Liberty Lake presents different challenges.
"If we aren't able to police golf carts, how are we going to monitor scooters?" he said. "I think it will just add more confusion."
In June, a woman on a Lime scooter was injured when she collided with a truck in north Spokane. She was transported to the hospital with what was later determined to be a concussion.
Lime uses GPS technology to automatically regulate scooters in certain areas. For example, riders can only travel up to 7 mph in Riverfront Park. The company also offers a program called "Lime Access" for low-income users featuring an unlock fee of 50 cents and a rider fee of 7 cents a minute.
Key said the future of Lime scooters in Liberty Lake resides with the governing board.
"It really requires that the City Council takes the lead on this," she said. "I get the opinion that there could be some conflict between scooters and golf carts. It's just like riding a bike. You're expected to know the rules of the road. There's a learning curve with scooters."