For John Bujosa, it is more than four wheels and an engine – it's a heartfelt salute to friends and colleagues.
As a police ambassador with the Liberty Lake Police Department (LLPD), Bujosa helps with agency events as well as public relations and social media. Yet it is his role as the coordinator of a unique new project that has the longtime law enforcement volunteer delivering a compelling message throughout the region.
In April, Bujosa premiered a tribute car that honors police officers who have lost their lives in the line of duty or through the effects of post traumatic stress disorder (PTSD). Bujosa's friend, LLPD Sgt. Clint Gibson, is one of the names on the vehicle. Gibson took his own life in April 2014 after serving over 20 years in law enforcement.
"When I first starting putting the names on the car, I was so emotional," Bujosa said. "I wasn't sure I could do it — but once I got past that part, it was a little easier, just knowing I was honoring them. I've done a lot of projects and this is by far the most meaningful."
Liberty Lake Police Chief Brian Asmus said he turned the project over to Bujosa earlier this year.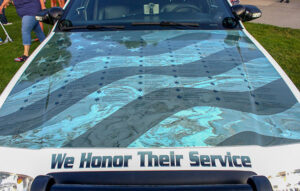 "We felt this project was important and John's just run with it," Asmus said. "He's booked until the end of summer. People are stopping to remember those who have given their lives to protect others."
According to the National Law Enforcement Officer Memorial Fund, 144 officers in the U.S. lost their lives in the line of duty last year, up from 129 in 2017. The average age was 41 with a dozen years being the average tenure in law enforcement.
Another national organization, Blue H.E.L.P. (Honor Educate Lead Prevent) reported 167 officer suicides last year in the U.S. The mission of Blue H.E.L.P. is "to reduce mentail health stigma through education, advocate for benefits for those suffering from post-traumatic stress, acknowledge the service and sacrifice of law enforcement officers we lost to suicide, assist officers in their search for healing and to bring awareness to suicide and mental health issues."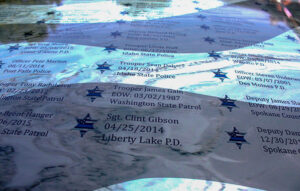 "This is a very high-risk job on all fronts," said Shane Brickner, a longtime LLPD volunteer officer who also serves as the city's mayor pro tem. "You look at the amount of sacrifice and scrutiny involved. We are very fortunate here in Liberty Lake to have such great community support but a lot of officers don't have that kind of support."
Brickner, who was close friends with Gibson, said seeing the tribute car for the first time had an impact.
"I teared up," he said. "It was very emotional."
Awareness and response to the effects of PTSD among officers have improved, said Asmus who now mandates that officers take three days off following a critical incident. The agency also provides resources for counseling with the priority of sustaining positive mental health.
"Before these things were not really talked about," Asmus said. "I think that culture is changing but we still have a ways to go. We want to encourage officers to talk about it and get that help. We have a broader use of sick leave that is part of that shift in mindset. We want to promote resiliency."
Bujosa, who spent time in the Air Force along with years as a reserve officer, said he has grown close to many of the families whose loved ones are part of the tribute vehicle.
"I got a call from this guy in Arizona who said, 'I heard my dad's name is on that car,'" Bujosa said. "I've created a bond with the families I've met. Every one of them has been so appreciative."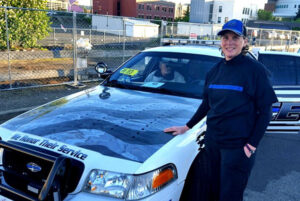 While LLPD could have funded some or all of the project, Bujosa made it a point to reach out to local businesses for help. The response of in-kind donations has been overwhelming, from a new sound system to custom detailing and more.
"I wanted the community to own this," Bujosa said. "So, I just started knocking on doors. I'd ask people if they could help and they'd say 'What do you need?' The support has been absolutely amazing."
At the Fourth of July celebration in Pavillion Park, Bujosa talked with dozens of people interested to hear more about the car, the only one of its kind in Washington. The hood is inscripted with names of nearly 100 officers from Washington and North Idaho who have died since 1980. A PowerPoint presentation inside the vehicle goes back to 1970 in its remembrance of fallen officers as well as K9 deaths in the line of duty.
One inquiry at Pavillion Park came from a Kennewick resident who found his uncle's name on the vehicle.
"He just happened to be at the event and saw the car," Bujosa said. "I think he was pretty surprised. He took pictures and I'm sure he shared it with his family."
Bujosa, who knew seven of the officers honored on the vehicle, said most who approach the car begin looking for names in alphabetical order or some other sequence.
"The names aren't in any order," he said. "And we did that on purpose. We want people to look at all the names, not just the one they're looking for. It helps them appreciate the extent of the sacrifice."
Resources
Code 4 Northwest is a free and confidential crisis response and referral network for active and retired first responders, public safety personnel, EMS, corrections, civilian support personal and their families. The 24/7 crisis line can be reached at 425-243-5092 or go to https://code4nw.org to learn more.
Behind the Badge Foundation exists to honor law enforcement officers who have died or suffered serious injury in the line of duty. The foundation serves as a trusted resource that provides immediate and ongoing support to families, agencies and communities in times of need. More at https://behindthebadgefoundation.org.
Learn more about Blue H.E.L.P. at https://bluehelp.org.
The list of donors to the LLPD tribute car include: Spokane Sunscreen, Toby's Body & Fender, RACOM, I Guard International, Clark's Tire and Automotive, Setina, Federal Signal Corporation, Whelan, Sound Off, Spokane Detail, Aspen Sound and Behind the Badge Foundation.