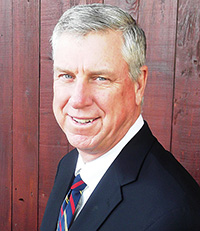 The Hub Sports Center welcomes the nation's #1 volleyball skills coach and Olympic gold medalist, Pat Powers.
Pat Powers was a member of the American Men's National Team that won the gold medal at the 1984 Summer Olympics. He is also one of only three players in the world who has an Indoor and a Beach World Championship.
Coach Powers has chosen Liberty Lake as one of only 25 cities in the United States to conduct his volleyball camp in 2019. He'll be conducting the camp for boys and girls ages 11-18 and adults, at the Hub Sports Center this Saturday and Sunday, Aug 10th – Aug 11th. The volleyball camp will run from 9:00 AM – 3:00 PM on Saturday and 9:00 AM – 2:00 PM on Sunday. The Hub Sports Center is located at 19619 E. Cataldo in Liberty Lake.
Players should expect to learn a lot about volleyball in a short period of time. Coach Powers does an excellent job of matching each player with drills and competition suited for their appropriate levels of play. Players will be grouped by age and skill level within the first hour of the camp. This volleyball camp is not about competition. Instead, it's about executing superior techniques while you are playing.
At the end of the first day, Powers will talk to all junior players and parents about high school volleyball, club volleyball, college volleyball and about volleyball scholarships.
Players are instructed to bring a lunch, beverages, snacks, kneepads, water and an extra t-shirt.
This camp sold out last year and is expected to sell out again. There are currently only 10 spots remaining.
Cost of the two day camp is $130 and interested parties can register online at
https://volleyballcamps.com/product/pat-powers-spokane-wa-volleyball-camp/