Liberty Lake's food scene will soon include a distinguished addition.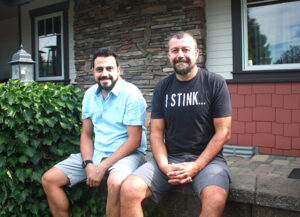 Raci Erdem, owner and chef known for The White House and Oval Office in Post Falls, is bringing his diverse culinary approach to the former CorkHouse space at 1400 N. Meadowwood Lane. The restaurant is expected to open by mid-October.
In keeping with Erdem's tradition of naming sites after iconic buildings in the nation's capital, the new location will be known as The Pentagon.
"I've always loved this building," Erdem said of the structure that first opened as Caffe Liberte in 2005.
A native of Turkey who built his two North Idaho establishments into savory regional landmarks, Erdem opened The White House in 1996 after working as a chef at Clinkerdagger's and the Spokane Club. The restaurant is known for Mediterranean fare infused with hefty helpings of garlic. In 2011, Liberty Lake was introduced to a short-term food truck version of the popular eatery with something known as "The White House Grill Garlic Mobile" which parked outside the Liberty Portal during lunchtime.
Erdem, who also owned and operated The West Wing on Spokane's South Hill for three years before it closed in 2016, said he stumbled upon the opportunity to expand his brand into Liberty Lake.
"It' was kind of funny because I didn't know they (CorkHouse owners) were about to move on," he said.
Erdem took the keys to the building on Aug. 30. He plans to do some interior remodeling and hire a staff of around 30. Interviews will begin on Sept. 7.
"I want this place to be a comfortable, relaxed setting," Erdem said.
Erdem said The Pentagon's menu will feature "20 to 25 smaller plates from around the world" as well as entree choices like steaks, chicken and a variety of seafood, including The White House's signature Chilean Sea Bass, salmon, clams and mussels. Appetizers will range from gorgonzola hamburgers, calamari and an Indian-influenced pizza with curry chicken. Prices, Erdem said, will be "pretty moderate."
"My goal has always been to offer good food at good prices and with good service," he said. "The idea here is that a group will order three to four smaller plates and share."
The Pentagon becomes the latest business to occupy the site on Meadowwood Lane. Caffe Liberte was followed by Stilos, then Barlows which called the space home from 2009 until it moved to an orginal building near Starbucks in 2013. CorkHouse opened in June of 2014, adding a 500-square-foot patio.
In recalling the opening of The White House 23 years ago, Erdem said he had many doubters.
"Lots of people laughed at me," he said. "It was just this little white building in Post Falls. So, we decided to call it 'The White House.'"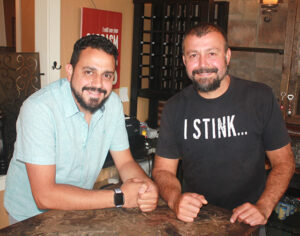 Erdem said he learned early on that "the restaurant business is not a hobby business." He readily admits to "trying to do too much" when it came to The West Wing which closed despite drawing robust crowds.
"That was back when I had a big ego," he said. "I was spread too thin. It was hard on my family. I learned from that. It was a very expensive school for me."
This time around, Erdem is bringing in proven reinforcements to bolster his new venture. The effort is led by his nephew Emre Basar, a longtime employee at The White House and Oval Office, as well as Devon Plumb, chef at the Oval Office who has been part of Erdem's team for 15 years.
Erdem has nothing but superlatives for Liberty Lake's current restaurant lineup, noting he is "a big fan" of Hay J's and Piccolo Artisan Pizza Kitchen.
"I want The Pentagon to be a neighborhood restaurant," Erdem said.