Printers of business cards in the greater Liberty Lake area may be seeing an influx of orders in the very near future.
The Liberty Lake Business Networking Group (BNG) held its inaugural meeting this summer and is now meeting regularly twice a month at the Liberty Lake Portal. While Liberty Lake incorporated in 2001 and has been home to a slew of companies before that, the BNG appears to be the first stand-alone entity that is connecting representatives of local commerce while enthusiastically promoting the local business community.
BNG members like Tim Olsen, a broker with John L. Scott, say the group has already paid dividends.
"If I'm going to sell this community, I want to know what's going on here and let people know about local resources — this group helps me do that," Olsen said.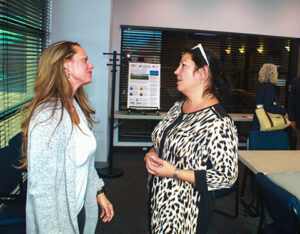 On a Thursday afternoon earlier this month, over a dozen people gathered in the Mica Peak Room at the Liberty Lake Portal to talk shop. In addition to representatives from the business community, city officials and candidates for government office took the time to be there.
"I think this group can really make a difference in the community," said Lorraine Tunca of Lorraine Fine Jewelers after the meeting. "What I've learned is the business atmosphere in Liberty Lake is very unique. A lot of people are transplants — they come from other places. This helps with the networking."
BNG held its first meeting on June 27 but took a hiatus after founder Mike Boblett moved out of the area. Website developer Brian Cuda picked up the ball and has been coordinating meetings twice a month since September.
"I think Brian's done a great job," Olsen said.
BNG typically meets in the morning on the first Thursday of each month and in the afternoon on the third Thursday at the Portal. Times are subject to change and can be found on the group's Facebook page.
Brenda McKinley, a broker with Windermere, is familiar with groups like BNG in her role with the Greater Spokane Valley Chamber of Commerce. She attends meetings of the chamber's Liberty Lake networking group — which convenes twice a month at the Liberty Lake Library — as well as BNG gatherings and sees advantages to both.
"The chamber group includes only one representative from each kind of business and is more focused on referrals," McKinley said. "This new group is more focused on what's happening in Liberty Lake and what people can do to increase traffic to businesses in Liberty Lake. We're here to promote Liberty Lake."
BNG meetings typically involve an open forum where topics are discussed and ideas bandied about. Shana Houchin, owner of Susie Helper, a company that helps with housecleaning and minor caregiving tasks, said the group has helped increase her local contacts.
"It's making me get out there and get out of my shell," she said.
Houchin has utilized the group to connect with a local attorney who specializes in senior and estate law, a resource that could be of assistance to some of her clients. She has also met a Realtor who will be able to help her in a future search for a new home.
Olsen said he sees bright things for BNG moving forward.
"I think we're going to continue to grow just as long as we get local businesses to recognize us," he said.
Dave Himebaugh, a financial advisor with Robert W. Baird & Co. said he has not seen a local networking effort like the BNG since he moved to Liberty Lake in 1990.
"When I worked in Coeur d'Alene, I was involved in groups like this," Himebaugh said. "But this is different. It's a looser format. Guests are coming here to promote their businesses and lend community support. I could see this doubling in a year. With groups like this, you get out of it what you put into it and it just takes time."