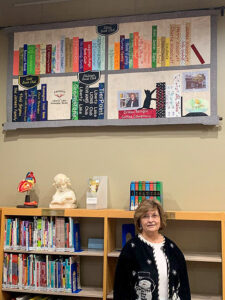 The Friends of the Liberty Lake Municipal Library held a formal dedication ceremony for the Library Quilt created by Judi Owens on December 9, 2019.
Those attending included Mayor Steve Peterson and his wife (and Rico their dog), Mayor Pro Tem (and Mayor-Elect) Shane Brickner, and Councilmembers Cris Kaminskas and Mike Kennedy.
Mindy Howe and Sandi Bishop represented the Library Board of Trustees. Library Director Jocelyn Redel and Librarian Georgette Rogers represented the library staff.
Many of the Friends of the Liberty Lake Municipal Library attended and provided refreshments. Friends President Holly Woodruff began the dedication with a brief history of the fundraising for the quilt. Holly noted that the quilt represents a total of $6620 raised from individuals, local businesses, and Liberty Lake service clubs the Kiwanis, the Lions Club, and Rotary.
Judi Owens, the quilt creator, gave a brief history of the library and was presented with a handmade (by Cindy Troxel) thank you card for her work.
Money raised through the Library Quilt Fundraiser benefits the programs and events at the Library.
Thank you to everyone who worked on the fundraiser, who donated to the fundraiser, and most importantly, to Judi Owens for bringing the idea to the Friends and creating such a beautiful and meaningful quilt.
Please stop by the Library to see this beautiful creation!