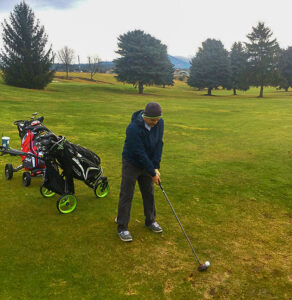 The temperature is nudging just above 40 degrees as Steve Rhodes lines up for his tee shot on a misty Saturday morning at Trailhead golf course.
The Bay Area transplant moved to the Inland Northwest in August and is building a home in Liberty Lake, not far from the only local links that remain open throughout the year for all-weather golfers.
"I'm used to playing in the 50's and 60's," said Rhodes, referencing his previous coastal home in Pacifica, California. "Now I'm getting used to the 40's."
Rhodes' attire on this chilly morning is more suited for cross country skiing than a round of golf. His dark blue beanie is pulled securely over his head. Finding his footing on the soggy turf, Rhodes sends a drive 200 yards down the first fairway. The ball slices to the right and settles near a chain link fence that separates the course from a paved trail.
"It's a great layout here and the prices are reasonable," Rhodes said. "I've just got to be careful not to slip."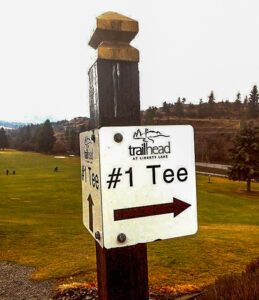 Chris Johnston, head PGA pro at Traihead, has seen golfers brave rugged winter conditions in the nine years he has worked at the 63-acre venue. While nearby courses like Meadowwood and Liberty Lake were closed by early November, Trailhead keeps its pro shop and driving range open year-round while tee times are available as long as the snow doesn't pile up.
"If it snows in the morning and melts in the afternoon, people can play," Johnston said. "There are people who come out when it's 20 degrees. A lot of it depends on the wind. It can be 30 degrees with wind and they won't play or 20 without wind and they'll come out."
As winter gives way to spring, high school and college golf teams can be found brushing up their game here while other courses remain shuttered.
"It's the only place you can play," Johnston said. "It's the only show in town."
Trailhead is currently set up on temporary greens and tee boxes while carts are not allowed. A "frost delay" is common on icy mornings to prevent damage to the turf. A mere $10 buys a day-long pass.
"We get people who call and say, 'Has the frost lifted yet?'" says Trailhead assistant pro Troy Smith.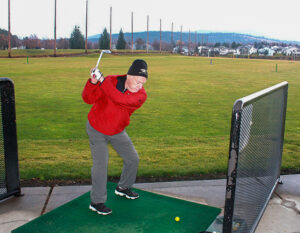 Andy Hoye makes the drive from Spokane's South Hill to Trailhead during the winter "just to hit golf balls." The covered, heated driving range features 10 stations. On this Saturday morning, Hoye, 73, sharpens his game with with a bucket of balls numbering just shy of his age.
"I like to see the ball fly," Hoye says. "It's a nice range, well-run, nice people. For me, I get out mostly just for fitness and to stay loose."
Last winter, for the first time since the city of Liberty Lake took over the course in 2002, Trailhead ran out of driving range balls. A blast of snow in early February, after previously mild conditons, left some 10,000 balls buried under a frozen layer.
Johnston says visitors must adjust to the cold, noting that it's not uncommon to see golfers donned in "big, puffy coats."
"The main thing is the ball doesn't fly as far so you've need to hit more club," he said.
Mason Johns grew up playing golf at Trailhead when it was still known as Valley View. The Liberty Lake resident says he appreciates the accessibilty of his home course regardless of wind, rain, sleet or shine.
"In the winter, I'm just happy it's open," he said.
To learn more about Trailhead, call 509-928-3484 or visit www.libertylakewa.gov/golf. Winter hours are 10 a.m. to 3 p.m. Trailhead will be closed Christmas Day and New Year's Day. The pro shop is currently featuring a holiday sale through Dec. 24 with buy-one, get-one free on hats and gloves and a progressive sale (five items at 50 percent off).