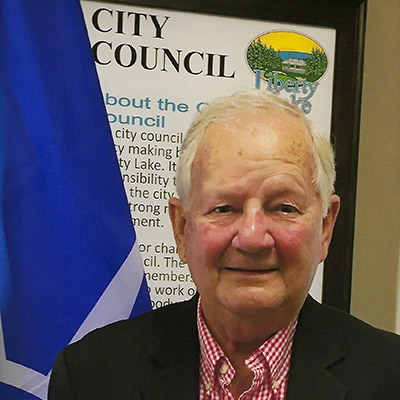 Robert (Bob) Moore
Running for
COUNCIL POSITION NO. 5
Best way for supporters to support campaign
Vote for me to be re-elected to Liberty Lake City Council in November, 2019!
Meet the Candidate
Grew up in Norwood, Ohio, a Cincinnati suburb, and moved to Liberty Lake in 2009 to be close to family after living 23 years in Florida. Also resided in Montgomery, Ohio, Mt. Lebanon, Pennsylvania, Safety Harbor, Florida, and Palm Harbor, Florida.
I was first elected to public office over four decades ago after serving five years as Chair of the Montgomery, Ohio Planning Commission.
Appointed to the Liberty Lake Planning Commission in 2010 and served for four years as Chair, Appointed to City Council in 2014, and re-elected in 2016.
Served as V. P. and a Director of the Cincinnati Chapter of Financial Executives International (F.E.I), Junior Achievement of Greater Cincinnati Board, President and Director of Bay Area Manufacturing Association (B.A.M.A.), Vice Chair of Millwood Presbyterian Church Endowment Trust.
Married 63 years to my High School sweetheart, Jackie Thomas Moore, a volunteer at the Friends of the Liberty Lake Library. Honored to serve on City Council with my daughter, Cris Kaminskas, (even though we don't agree on all issues) and to watch my grandson, Kyle Kaminskas, grow up in Liberty Lake and become a Senior next year at Central Valley High School.
What qualifications or experience do you have that uniquely qualifies you to lead Liberty Lake?
What is your "day job" and how will that affect or influence your ability to serve the community?
Why do you want to serve Liberty Lake?
What do you see as Liberty Lake's greatest challenge? How will you overcome it?
What do you see as Liberty Lake's greatest strength? How will you build on that?
How long have you been a resident of Liberty Lake?
In which Liberty Lake neighborhood do you live?
Anything else you would like share with the community?