Cristella (Cris) Kaminskas
Running for
COUNCIL POSITION NO. 7
Best way for supporters to support campaign
Of course any donation helps and is greatly appreciated. Word of mouth and spreading the word on social media is a great way to keep the ball rolling. I'll also have yard signs if you are willing to put one in your yard so your neighbors know who you are supporting.
Meet the Candidate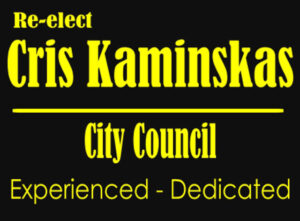 I am a 13-year resident of Liberty Lake and have been honored to represent the citizens as a City Council Member since January of 2010.
My husband and I celebrated our 23rd anniversary in May and have the awesome job of raising our 16-year-old son who is in full college-visit mode. In my "spare" time, I serve on the Steering Committee for Spokane Valley Young Life, love to trail run, play the piano, and care for our fur-babies.
I earned my bachelor's degree in Psychology from Miami University (Ohio) and went on to pursue my MBA at the University of Tampa. After spending 20+ years in Project and Account management in the electronics manufacturing industry, I made a leap in 2017 to join the Sales Enablement team at TierPoint where I have fully embraced being on the business operations side of a cutting-edge technology company.
My commitment to City Council started in the spring of 2009 when I began to be a regular at the City Council meetings to educate myself about our city government and the challenges the council and staff were facing. This enabled me to hit the ground running when I was appointed to Position 7 in January 2010.
That commitment has not waivered over the last 9+ years. I earned my Certificate of Municipal Leadership through the Association of Washington Cities and am on track to complete my Advanced Certificate in early July. In addition to Council workshops and meetings, I regularly attend events put on by Greater Spokane Incorporated, The Greater Spokane Valley Chamber of Commerce, Association of Washington Cities, and The Alliance for Innovation. In addition, I attend to the City's booth at the Farmer's Market almost every Saturday in the summer. These are all great avenues through which I strive to better myself to represent you.
My goals have stayed consistent throughout my tenure: Balanced residential and business growth, Fiscal Responsibility, and Open, Transparent communication with our residents. As a council, we need to leverage our resources and partnerships to keep up with the challenges of that growth. Over the years, the Central Valley School District, the Spokane Valley Fire Department, the Liberty Lake Water & Sewer District, and the Transportation Improvement Board have all been great partners in leveraging funds for the betterment of our City. We need to continue to build those relationships and to repair others that have been a bit contentious over the years, so our area as a whole can thrive.
What qualifications or experience do you have that uniquely qualifies you to lead Liberty Lake?
What is your "day job" and how will that affect or influence your ability to serve the community?
Why do you want to serve Liberty Lake?
What do you see as Liberty Lake's greatest challenge? How will you overcome it?
What do you see as Liberty Lake's greatest strength? How will you build on that?
How long have you been a resident of Liberty Lake?
In which Liberty Lake neighborhood do you live?