Dg Garcia
Running for
COUNCIL POSITION NO. 1
Best way for supporters to support campaign
Sign up to Volunteer for Dg's campaign at this link:
Click here
Donate to Dg's campaign by following this link:
Click here
Meet the Candidate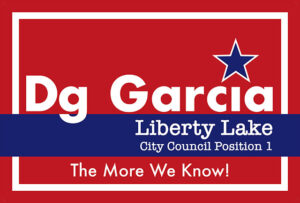 I am a proud American born in Richmond, Virginia. I am the daughter of a retired U.S. Air Force Chief Master Sergeant and Special Education public school teacher. Over the years, I have had the opportunity to travel extensively throughout the United States and Europe. My father instilled the value of service over self and my mother ensured that education and knowledge were keys to a greater understanding of our impact on others and the personal contributions we can make.
I continued the legacy of my father and enlisted in the U.S. Air Force, beginning my career at Fairchild Air Force Base in Spokane and was later stationed at Lackland Air Force Base in San Antonio, Texas. I took a service-connected retirement, receiving the Meritorious Achievement Medal, for Heroism, in 1986. I am proud of the long, honorable family tradition of military service and commitment to our country at home and abroad. I am pleased to say my son followed in these footsteps by enlisting in the Washington Army National Guard and now serves as a recruiter.
Upon my separation from the Air Force in 1988 I moved to Sacramento, California. This was the beginning of my state service and a continuation of my passion for community activism and advocacy for people everywhere. I retired and moved to Liberty Lake, Washington in December of 2015 to be with my family including four young grandchildren. My commitment to building the public's connection to its government has never changed.
I am a daughter, sister, mother, grandmother, neighbor and friend who wants to meet people at their point of need, immediately. I am running to represent all of us and am proud to say I am ready to serve the community of Liberty Lake.
Please elect Dg Garcia, City Council Position 1.
What qualifications or experience do you have that uniquely qualifies you to lead Liberty Lake?
What is your "day job" and how will that affect or influence your ability to serve the community?
Why do you want to serve Liberty Lake?
What do you see as Liberty Lake's greatest challenge? How will you overcome it?
What do you see as Liberty Lake's greatest strength? How will you build on that?
How long have you been a resident of Liberty Lake?
In which Liberty Lake neighborhood do you live?