Holly Woodruff
Running for
COUNCIL POSITION NO. 3
Best way for supporters to support campaign
Please spread the word. I plan to keep expenses low and self-finance my campaign so word of mouth will help a lot!
Meet the Candidate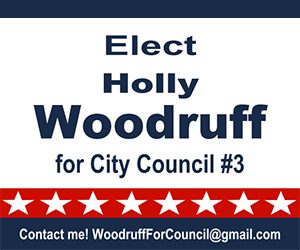 Elected experience: None
Other professional experience: Licensed (Indiana) Clinical Social Worker (mental health), retired; adjunct professor of social work, Indiana University, current; broadcast engineer (television and radio), retired; industrial piping designer and field engineer, retired.
Education: Bachelor and Master of Social Work, Indiana University
Community Service: Liberty Lake: Salary Commission, current; President of Friends of the Liberty Lake Municipal Library, current. Richmond, IN: President and other offices, Richmond Civic Theatre Board; Executive Committee, Wayne County Mental Health Association; Regional Representative, National Association of Social Workers Indiana State Board of Directors; Meals on Wheels; Parent-Teacher Organization.
What qualifications or experience do you have that uniquely qualifies you to lead Liberty Lake?
What is your "day job" and how will that affect or influence your ability to serve the community?
Why do you want to serve Liberty Lake?
What do you see as Liberty Lake's greatest challenge? How will you overcome it?
What do you see as Liberty Lake's greatest strength? How will you build on that?
How long have you been a resident of Liberty Lake?
In which Liberty Lake neighborhood do you live?
Anything else you would like share with the community?