Phil Folyer
Running for
COUNCIL POSITION NO. 1
Best way for supporters to support campaign
Please tell anyone willing to listen, vote Phil Folyer position #1. I have many yard signs for those willing to display one. I am self funding my campaign.
Meet the Candidate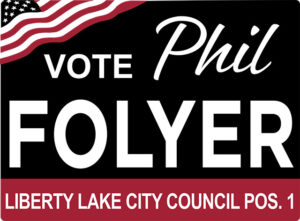 I am originally a farm boy from Wisconsin. Moved to Otis Orchards in 1989, then to Liberty Lake in 1999. I have been in construction my entire adult life. I have also been in the Army National Guard for 21 years retiring as an E-8 1st Sergeant. I was 12B which means combat engineer. I always joked with people by saying "during the week I would swing a hammer to build a home and when I put on the uniform it was time to blow something up". I worked with chop saws and C-4, but still have all my fingers. I have the most loving & supportive wife, if not for her I wouldn't be able to do most of these things. I've had many great experiences representing the Spokane Home Builders along with the state organization BIAW. I have owned my own home building business for 15 years. I enjoy building homes but I love building relationships with the homeowners. A few things I am a firm believer in are as follows. Learn from my mistakes, respect others, respect is earned, do what you say you will do, be open to debate, lead by example, you get what you pay for and communicate just to name a few. The thing I most enjoy is being part of the discussion, being part of the solution, then implement the final decision. It's not for money or recognition, there's just a part of me that says "be part of the equation with the best intentions for our city." I have seen this city grow from the beginning. I plan to stay until she's built out. I only want to see the best going forward, that's why I'm running for position 1. Thank you!
What is your "day job" and how will that affect or influence your ability to serve the community?
Why do you want to serve Liberty Lake?
What do you see as Liberty Lake's greatest challenge? How will you overcome it?
What do you see as Liberty Lake's greatest strength? How will you build on that?
How long have you been a resident of Liberty Lake?
In which Liberty Lake neighborhood do you live?