Shane Brickner
Running for
MAYOR
Best way for supporters to support campaign
The best way for people to support my campaign is to help spread the word to their Liberty Lake friends and neighbors. Some great ways to do that include posting on social media about why you're supporting my campaign, displaying a yard sign in your yard, and just talking to your neighbors about why this race matters to you.
We have a volunteer sign-up form that lets us know how people would like to get involved, whether that's asking for a yard sign, wearing a campaign button, or hosting a candidate meet and greet to introduce me to their neighbors.
People can let us know how they'd like to help here:
https://forms.gle/ZJgngq3X47F6nWCr5
We also greatly appreciate financial support to help reach more voters. Anyone that would like to contribute can do so here:
https://secure.anedot.com/bricknerformayor/donate
I appreciate all forms of support, and I am working hard to earn every vote!
Meet the Candidate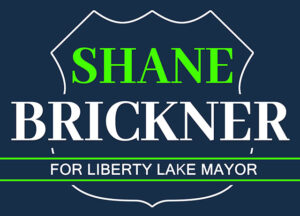 My wife Jamie and I have two grown kids, Talon and Katie, and our youngest Gracie, who attends Liberty Lake Elementary. We also have two dogs that are part of our family, Duke and Harley. We're excited to be welcoming our first grandchild later this fall!
We've lived in Liberty Lake for 15 years. I love this city, and I believe in giving back to it by doing everything I can to keep it safe and prosperous. I've served on our city council for 8 years, including as Mayor Pro Tem for the last four years. I have also served as a volunteer reserve officer with the Liberty Lake Police Department for over 12 years.
I believe in transparency and accountability, in life and in our government. My priority is making sure that our city's needs are met in the most efficient, cost-effective way possible. I want to lead our city by proactively planning for the future, to make sure that our city's inevitable growth is handled wisely, and for the betterment of our community. I won't be frivolous with our city's resources. I will continue to listen to the members of our community to help best represent our city's interests.
I will work tirelessly to ensure a brighter future for Liberty Lake. I would be honored to earn your vote.
What is your "day job" and how will that affect or influence your ability to serve the community?
Why do you want to serve Liberty Lake?
What do you see as Liberty Lake's greatest challenge? How will you overcome it?
What do you see as Liberty Lake's greatest strength? How will you build on that?
How long have you been a resident of Liberty Lake?
In which Liberty Lake neighborhood do you live?