Tom Stanley
Running for
COUNCIL POSITION NO. 7
Best way for supporters to support campaign
The best way is to talk to your neighbors, friends, and family that live in Liberty Lake. Tell them about my vision for Liberty Lake. You can contact me to put a sign in your yard.
Meet the Candidate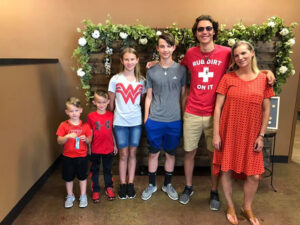 Thomas Stanley has become who he is today because of 23 years of marriage to Sharon, parenting five children (ranging from 19 years to four years of age), serving in the Army and National Guard for 8 years, with tours in Jordan and Iraq, and working as a manager at Southwest Airlines for over 17 years.  These experiences have helped Thomas learn that leadership is defined by serving others, hard work and integrity. Along with his experiences, Thomas has an Associate of Arts degree in Business Administration from Keiser University.
Because of his excellent work-habits, relational ability and outstanding leadership, Thomas has been promoted multiple times at Southwest Airlines.  His last promotion brought him to Liberty Lake, WA in 2015. Since he has moved to Liberty Lake, he has developed a passion for the town and has gotten involved in coaching and leading Little League and is now running for city council.
Thomas is ready to help Liberty Lake continue to be a great place to live for a long time.  He is the right person for city council because his unique background and experience has given him the ability to put the needs of others first, while positively engaging and collaborating with people from diverse backgrounds and cultures.
What qualifications or experience do you have that uniquely qualifies you to lead Liberty Lake?
What is your "day job" and how will that affect or influence your ability to serve the community?
Why do you want to serve Liberty Lake?
What do you see as Liberty Lake's greatest challenge? How will you overcome it?
What do you see as Liberty Lake's greatest strength? How will you build on that?
How long have you been a resident of Liberty Lake?
In which Liberty Lake neighborhood do you live?